Marge Haggerty's rendition of " The Neighbors" from the Critter Hollow book.
Rebecca McCreary shared her story with us and her version of Brown Sugar Sampler: 
I purchased Brown Sugar Sampler years ago to make a quilt for my dear friend Sharon. It had many Rose of Sharon elements and the pieces seemed big enough for an appliqué beginner. Because I was working full time, raising a family and didn't know how to hand appliqué, the project never got started. Alas, my friend died suddenly in 2012. Subsequently, I retired, became an empty nester and used your pattern to teach myself to appliqué. Last night I finished putting the top together.  I believe Sharon's daughter will really like it. Thank you for this beautiful pattern.
Lynne S. Dallmeyer-Hartman obviously does beautiful work and has displayed "Brown Sugar Sampler" at a number of quilt shows:

    "I would like to share some photos of my Brown Sugar Sampler quilt ("Martha's Menagerie" in honor of my mother and her love of floral gardening). It was an absolute joy to make and has been exhibited at several quilt shows including, QuiltFest in Jacksonville, FL 2016, Asheville Quilt Show 2016, Quilts by the River of Palatka, FL 2016, Vermont Quilt Festival 2017, as well as, recently in the World Quilt Florida in Orlando last week."
Anne-Marie Kenyon did the Love Bears quilt and used a piano key border.  Anne-Marie offers quilting services in Auburn, New Hampshire.  
https://www.anniequilts.com/home.html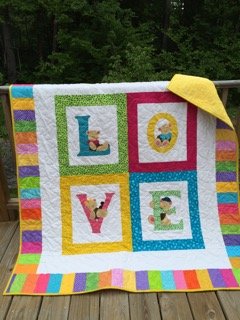 From Sara Rae:     Dear Brandywine, I purchased this pattern nearly 2 years ago after having talked with Jack on the phone.
(I had hoped for a number of years to find the right "12 days.." pattern.)  Jack asked that I send a photo when completed. It is all machine appliquéd. (A great Bernina).  I made a few changes as I learned early on to make every quilt my own. Instead of 6 white domestic geese a-laying, I made Canada geese (we are in the great Northwest) and I made 7 black swans. Since I am Scottish, I decided to make 11 bag pipers,                              (that was the hardest.)
From Debra Ramsey
I just wanted to keep you updated on my quilt, "My True Love," from your
12 Days of Christmas
pattern. It has received 2 best of shows in local clubs, an honorable mention in Grand Rapids, MI and Best Appliqué from the Lakefarm Park show in Kirkland, Ohio. I am now retiring it from shows as its date is expiring.
Hello
I really enjoyed creating this quilt for my newest great-nephew with the letters from Alphabears.
I increased the size of the letters to 150%. I used the needle turn technique for applique and did invisible machine applique. The background is quilted with my walking foot using the serpentine stitch. The triangles are quilted with the "egg and dart" design using a ruler and ruler foot. I use a Bernina 710.
Thanks for the pattern.
Wendy Wood
Manitoba, Canada
Debbie Ballard has been making quilts for her grandchildren; one of the happy kiddos is shown below with a "Critter Caboodle" quilt.  Nice tootsies there, grandpa!
We were recently in Minnesota and, as promised, here are
the pictures of two more quilts I made from your designs.
Debbie
Tina Stratford-Brown sent us photos of "Calendar Baskets" that she did this year (above.)  Nice work Tina!
Penny Fishman of Pittsburgh is a fan of Brandywine critters and characters, and is, (obviously,) a talented quilter.  Notice how she created a unique Christmas wall hanging by rearranging the children figures and the Christmas tree from "Sugarplum Christmas," and also modified and personalized the "Bless the Beasts and the Children Mini Quilt" by adding the duck and the turtles from the "Bless the Beasts and the Children" cover quilt.  She also made a cute modification of "Frosty Babies."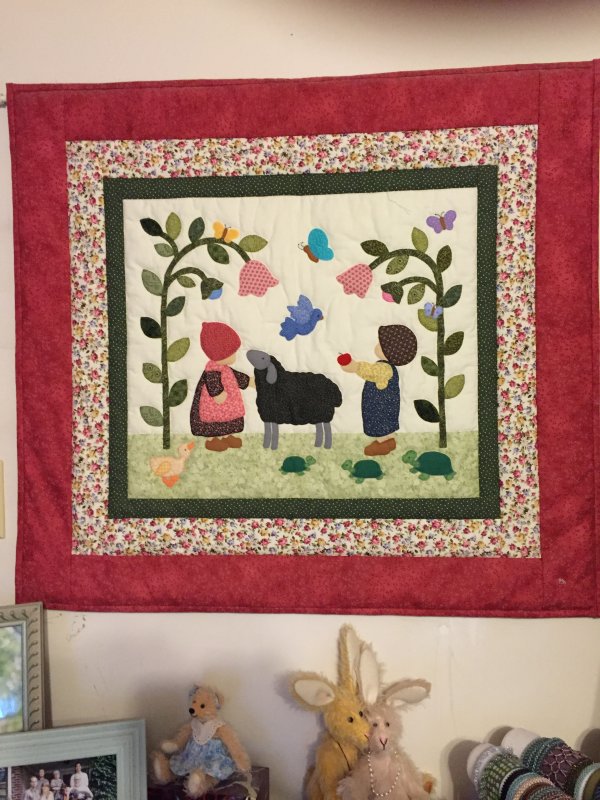 From Joann Eubanks:
I just wanted to share my granddaughter's 5th birthday gift.  I used your Dolly Days and Dolly's Play Date books for ideas.  The clothes, hats and shoes were fastened around the outside of the quilt and I used Velcro circles for Greta to change her clothes, etc.  I used "Soft & Stable" batting which worked fantastic for this project.  It made it all so it had great body without draping.   Greta's quilt will be hung a couple of inches off the floor and Greta can change her clothes as much as she wants.  I made the doll a little blue eyed blond like Greta and the first thing she said after she called was "She looks just like me!"  I think it was a hit!!!  Thanks for the ideas!
 From Emmy Storholm, Bemidji, MN
Here it is, finished, except to get a label sewn on.  Was fun, was also a great challenge to me; I do not do machine piecing or quilting, but am practicing.  Thought you might like to see it.  Emmy Storholm




"Dolly Days" quilt made by Carolyne Skjefstad, Anoka, MN
I entered the quilt at Anoka county fair and won the sweepstakes!  So now I will enter it in the State fair!  Thanks for creating such amazing things!! Take Care, Carolyne Skjefstad 
From Barb Brady of Michigan:
I have made "The Critters Quilt" and it has been accepted into the AQS Grand Rapids, MI, show this August… Thanks ever so much for designing this delightful quilt.  It was a joy to make.  Barb Brady.
From Anne Stoner:
Hi, My son and his wife decided on an owl theme for their infant son's bedroom. That's when I remembered I had your pattern, "Hooterville." I thought you might like to see it done up in 30's reproduction fabrics.  They are my absolute favorite!  Thanks for a great pattern!
Nana, Anne
Some time ago,Jean Houghtby shared this photo with us.  She said: "I wanted you to see my quilt made from your patterns, "12 Days of Christmas". It won a blue ribbon for Best Applique, bed size (all by hand,) and was voted Viewer's Choice at the Capital Quilters' Guild show in Raleigh, NC. ... Thanks for a great set of patterns."
Margo Claybo of Cleveland, TN sent us a photo of her masterpiece as well: "Hi Linda, I just wanted to let you know that since I posted my "12 Days of Christmas" on the new web site,The Quilt Show.  I have had 6 people contact me asking about the pattern.  Hope some business comes your way because of it.  My quilt has certainly been a hit!  Thanks for a great design!